Brittany V Walston
Brittany V. Walston is a visual artist who works primarily with photography. Her work deals with the nature of memory, perception, and narrative. Text-based narrative as well as personal documentation play a large role in her art practice.
She is currently a member of the studio collective Neighbors at Yale Union in SE Portland. She received a BFA from the Oregon College of Art and Craft in 2013. See more of Brittany's work here -
http://brittanyvwalston.com/
.
​
---
Steele Walston
Coming from a strong portraiture background, Steele Walston's recent work explores the negative space around a single person or between two people. These spaces become launching points for his process. He uses different methods of mark making to enhance the viewer's narrative of the portraits, floating between adding, subtracting, and obscuring information whether it's an important trait or an insignificant space between two arms. He uses color and technique as tools to flatten space and abstract the relationships between focal points.
Steele Walston was born in Denver Colorado and received a BFA with a concentration in Drawing and Painting from the Oregon College of Art and Craft in 2013. He is a visual artist working in Portland, OR. See more of Steele's work here -
http://www.steelewalston.com/
.
---
Angela Yudasto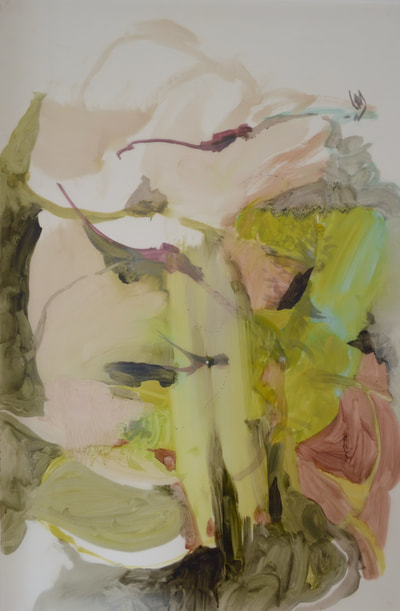 "I create works that examine the female perspective to redirect the male gaze and open up the conversation about sexuality within the expanse of the internet age
. The pieces contain several visual contradictions: they are aggressive yet calm, phallic but feminine, weighted but light. They
combine a mixture of minute details that make up a language of release, its build-up and lull. The series serve as visual reminders about open ecstatic sexuality that rebukes the marginalization of the objectified gender. What I am attempting to mirror through my paintings is our current cultural epoch and slow down the viewing process to shift the sexual female depiction and find its relevancy in its current millennial trajectory. "
Ms Yudasto, is a 2016 graduate of the Oregon College of Art and Craft, is currently living and making art in Brooklyn, New York. See more work by Angelica at
http://angelicayudasto.com/
.
---
Arielle Zamora
Arielle Zamora is an artist who focuses in oil painting and printmaking. She currently resides in Portland, Oregon, where she received her BFA in Drawing and Painting from the Oregon College of Art and Craft in 2013. She is intesely drawn to relationships between line and form, and she draws inspiration from architecture to help assign structure, repetition, and function to the two dimensional plane. Her work exhibits fine lines, and whether they're created free hand or by the metal of a straight edge, the line is always sensitive to natural human error. A line that drifts from the straight of a ruler or waivers with the shake of a hand is a line that speaks louder than any perfected thing. In her paintings, the repetition of such lines creates a bigger entity, a body visually sound and absolute from afar. But when up close, the individual lines admit their flaws. See more of Arielle's work here -
https://www.ariellezamora.com/
.